Rules of conduct and general measures
The following are the general and specific rules to be followed on the Campus to protect the health and safety of all those present.
The five rules for returning to UniSR
The rules provided below have been issued in accordance with the provisions of annex 18 of the Italian Prime Ministerial Decree dated 7 August 2020 "Guidelines concerning the complete return of higher education institutions to normal activities for the 2020/2021 academic year", subsequently amended and prorogued by the Prime Ministerial Decree dated 7 September 2020.
On their own responsibility, students must NOT access University premises if they have symptoms of an acute respiratory infection (fever, cough, cold).
Always wear a face mask when in communal areas of the university (classrooms, laboratories, offices, etc.), ensuring that your nose and mouth are properly covered.
Follow and comply with the instructions provided by the general and specific signage.
In classrooms:

A) only sit on the permitted seats and do not move seats (signs are in place),

B) avoid gatherings (especially when entering and leaving),

C) avoid physical contact.

Wash your hands frequently or use the hand sanitiser dispensers provided to keep them clean; try not to touch your face and mask during the course of the day.
General health and hygiene measures
The general measures described below are also summarised by the infographics affixed inside the facility.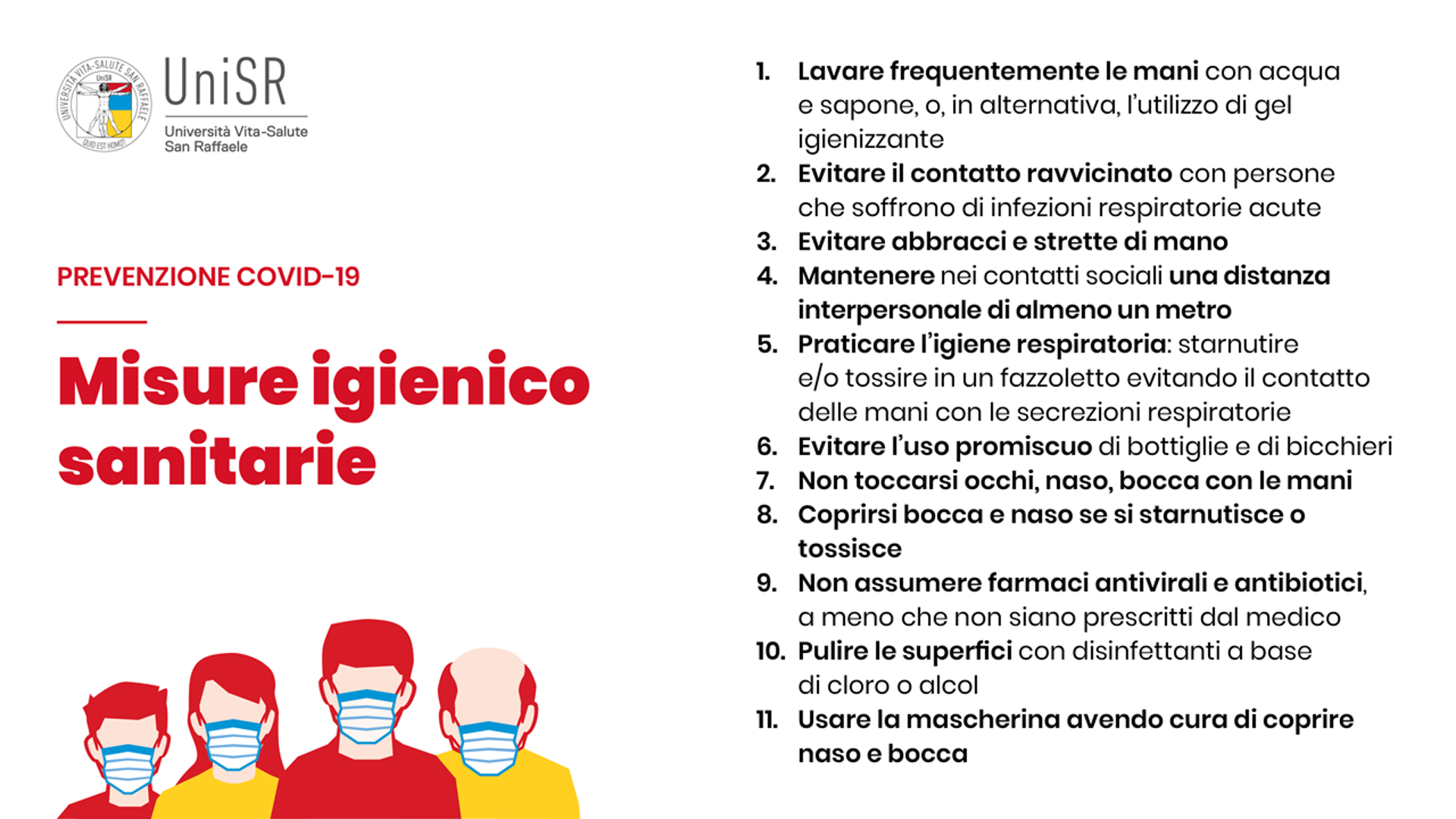 Additional specific measures
Use the tools provided for booking appointments;
Uniforms and/or lab coats must not be worn in classrooms and communal areas;
Everyone is responsible for registering their presence at the University by the procedures specified in point 4.2;
Avoid all situations where there is the risk of gatherings (e.g. when leaving classrooms, by vending machines) by complying with the instructions for the maximum number of people in communal areas;
Do not rearrange furniture (e.g. tables, chairs, benches);
Comply with the specific instructions affixed at the entrances to UniSR premises (e.g.: study rooms, classrooms, library, offices), ref. Annex 2;
Comply with the instructions regulating flows entering and leaving rooms and premises;
Use stairs to access upper floors whenever possible, and if lifts are used comply with the COVID-19 instructions provided inside;
Only eat and drink in the specifically allocated areas (canteen and external premises);
Do not share instrumentation, unless specifically instructed and with the use of specific protective equipment (e.g. in IT classrooms);
If instrumentation is shared, clean before and after use or wear specific equipment to reduce the risk of transmission.