The University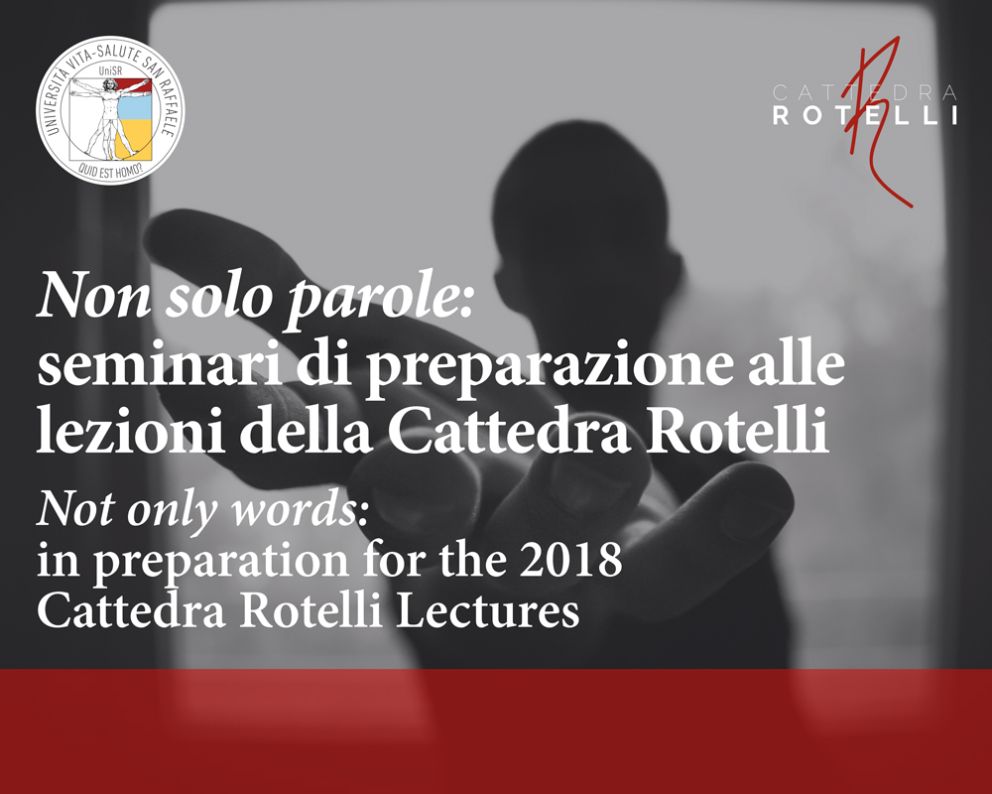 6 Febbraio ultimo incontro con Robert Simpson
"Not only words" è il ciclo di incontri che racchiude i seminari di preparazione al prestigioso appuntamento con la Cattedra Rotelli: una settimana dedicata a tematiche di rilievo per le società contemporanee e affidate a lectures di personalità di spicco in ambito internazionale.
Quest'anno le lectures saranno guidate dalla Professoressa Langton (University of Cambridge) esperta nei campi dell'etica, della filosofia politica, della storia della filosofia della metafisica e della filosofia femminista.
In quest'ottica gli incontri preparatori alla Cattedra Rotelli,  affronteranno il tema dell' Authority, Speech and Knowledge sotto differenti aspetti.  L'ultimo importante incontro "Scorekeeping and Social Theory "  sarà un seminario a carattere internazionale durante il quale il relatore  Robert Simpson (University College London) esaminerà in modo critico la teoria di Lewis  e la sua applicazione nei lavori delle filosofe McGowan and Langton.
Tre invece sono stati gli incontri di dicembre curati dalla nostra dottoranda in filosofia del Linguaggio Laura Caponetto e dalla professoressa  Claudia Bianchi, che partendo dai lavori di Rae Langton, hanno analizzato alcuni aspetti della filosofia del linguaggio con un focus sull'hate speech e i problemi d'autorità rapportati a problematiche e fatti sociali.
Martedì 6 febbraio 2018
11:00 – 13:00
Aula Agnodice (DIBIT 1)
 Scorekeeping and Social Theory
Robert Simpson (University College London) 
Abstract: David Lewis's account of "conversational scorekeeping" has proven useful in making sense of certain social phenomena involving language and communication. Lewis shows how conversations are a rule-governed activity, but in an unusually flexible sense, in that they can accommodate certain kinds of departures from "proper play" without breaking down. Lewis developed his account in part to flesh out elements of his philosophy of language, including his contextualist semantics for terms like "knowledge". But philosophers like Mary Kate McGowan and Rae Langton have put Lewis's framework to other uses, including explaining how identity-prejudicial speech can oppress or subordinate its targets. In this seminar we will review Lewis's account, and critically examine its application in McGowan and Langton's work.
 Dicembre 2017
"Atti linguistici, subordinazione e riduzione al silenzio"
L'obiettivo del seminario è quello di offrire, a partire dai lavori di Rae Langton, un'analisi delle istanze ordinarie di linguaggio d'odio in termini di atti linguistici di subordinazione. Verrà posto l'accento su come il linguaggio contribuisca a creare e a rinforzare le disuguaglianze sociali e su come le parole di alcuni abbiano la capacità di sottrarre ad altri diritti civili fondamentali (in primis, il diritto alla libertà di espressione).
"Parlanti, autorità e dinamiche conversazionali"
Il problema dell'autorità costituisce una delle obiezioni più spinose per la concezione del linguaggio d'odio in termini di atti linguistici di subordinazione. Questi vengono classificati da Langton come verdettivi o esercitivi – illocuzioni che conferiscono diritti e poteri a taluni individui, e privano di diritti e poteri altri. L'obiettivo del seminario è quello di analizzare il modello degli esercitivi conversazionali di Mary Kate McGowan e valutare in che misura esso possa offrire una soluzione al problema.
"Come contrastare i linguaggi d'odio: good speech, bad speech e counter-speech"
Licensed authority introdotta da Ishani Maitra. Il nucleo della nuova proposta è questo: qualsiasi parlante b  ordinario può acquisire autorità se si comporta come se l'avesse e nessuno degli astanti interviene mettendola in dubbio. La proposta, che verrà analizzata in dettaglio nel corso del seminario, accende i riflettori sulla complicità degli astanti. Al contempo, essa svela un interessante meccanismo per contrastare i linguaggi d'odio: obiettare, rompere il silenzio, opporsi.
Gli incontri sono aperti al pubblico, per maggiori onformazioni contattare cattedrarotelli@unisr.it

You might be interested in