Awards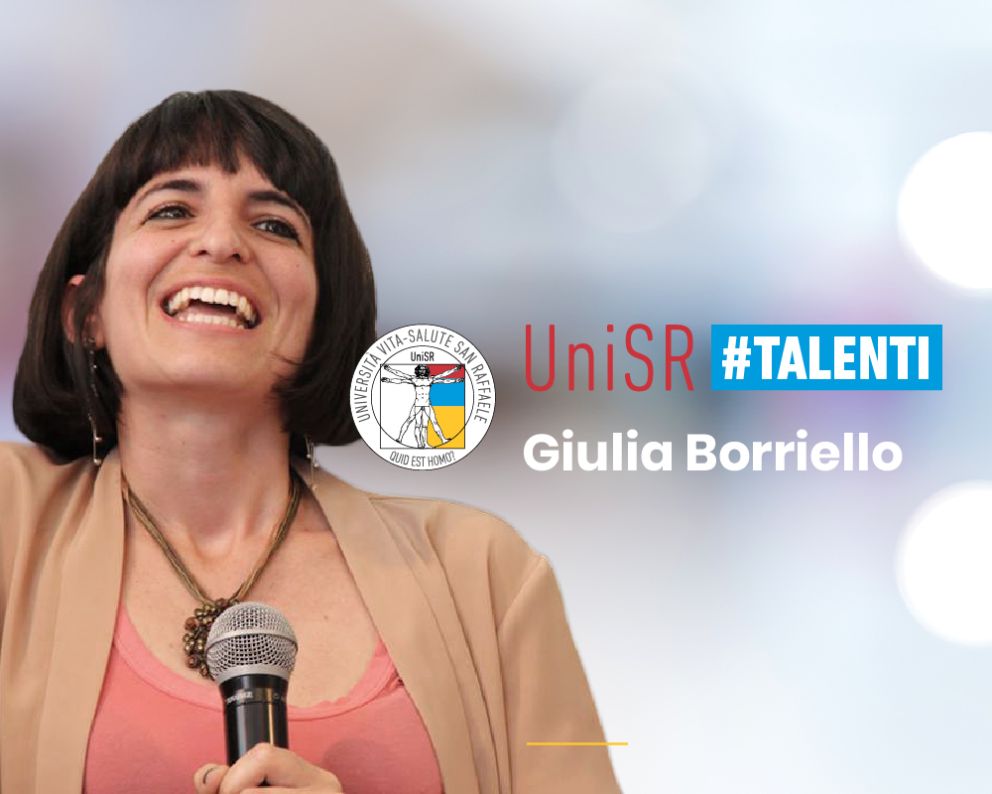 Tenacious, determined, but also passionate, curious and enterprising: Giulia is a former student of Psychology at UniSR, who has now settled in Germany. Already a researcher at the Department of Clinical Neuroscience, specializing in the clinical world of psychopathology, she is working in Berlin as a Psychologist specialised in cognitivist-constructivist psychotherapy, and she has a clinical studio, well-known among in the Italian community. The representative of our #TalentiUniSR she has been elected vice president of the first Italian Mental Health Association in Germany, a landmark that is bridging German institutions such as health insurances and local embassies and Italian companies, network of migration professionals of Berlin and many other German cities. About the Vita-Salute San Raffaele University, she says that "it was almost a second family: I am very happy with my journey, which honors the University that has so well prepared me".
Your University Studies
I received my Bachelor's Degree in Psychology and Counseling Techniques and Community in 2005, and in 2007 I obtained a Master's Degree in Clinical Psychology at the Ville Turro headquarter, standing out with Lode and Mention of Academic Merit
Why you enrolled at the Vita-Salute San Raffaele University
I remember with some tenderness the bittersweet sensation of having to choose among several universities that had proposed me the enrollment in different cities. I renounced to Turin and Rome because San Raffaele had convinced me the most, partly for personal reasons, and also after a "aerial" thought to my grandfather, a mathematical genius, who had always accompanied me to get interested into all sciences, experimentally and philosophically
What opportunities our University has given you
San Raffaele was almost like a second family to me, which willingly offered me role as a researcher in the department of Clinical Neurosciences in 2001, allowing me to hyper-specialize in the clinical world of psychopathology (in particular in emotional disorders and stress such as disorders anxiety). It has opened my mind not to content myself, to look for the empirical truth, to ask myself one, ten, a hundred questions before being satisfied: I can say it made me more critical without disregarding my human, empathic, creative, communicative talents. He put me to the test and made me study with great commitment, but also to laugh on the serenity of those who feel helped in self-determining their dreams. This happens to those who choose and live with passion
What you currently deal with
I have been living in Berlin since 2013, where I am a Psychologist specialized in cognitivist-constructivist psychotherapy. In addition to a successful clinical studio, well-known among the Italian community of the German capital, I have been elected Vice President of the first Association for Italian Mental Health in Germany
The strong point of studying at San Raffaele
Its scientific approach (also to psychology, finally a science like all the others); the hospital reality and his personalized contact with the patients; the structures and the avant-garde technological possibilities; the "American-like" dimension of campus life; the restricted "classes" with an immediate peer-to-peer relationship between classmates and privileged with famous names in the academic world
Your best quality
My colleagues recognize I am big-hearted! My answer is that I have a solid self-esteem, important to me because it is a quality built over time, that requires care, love and dedication. To balance, I also reveal my flaw: I am a controller! I should give up more!
Favorite quote
"The very essence of instinct is that it's followed independently of reason" (Charles Darwin)
Your dream in the drawer
To return home, in Italy, one day I will have white hair and my son will be grown up, one day when Italy will be good again, and to live nearby the sea, maybe in the green of our Tuscany
You might be interested in