Medicine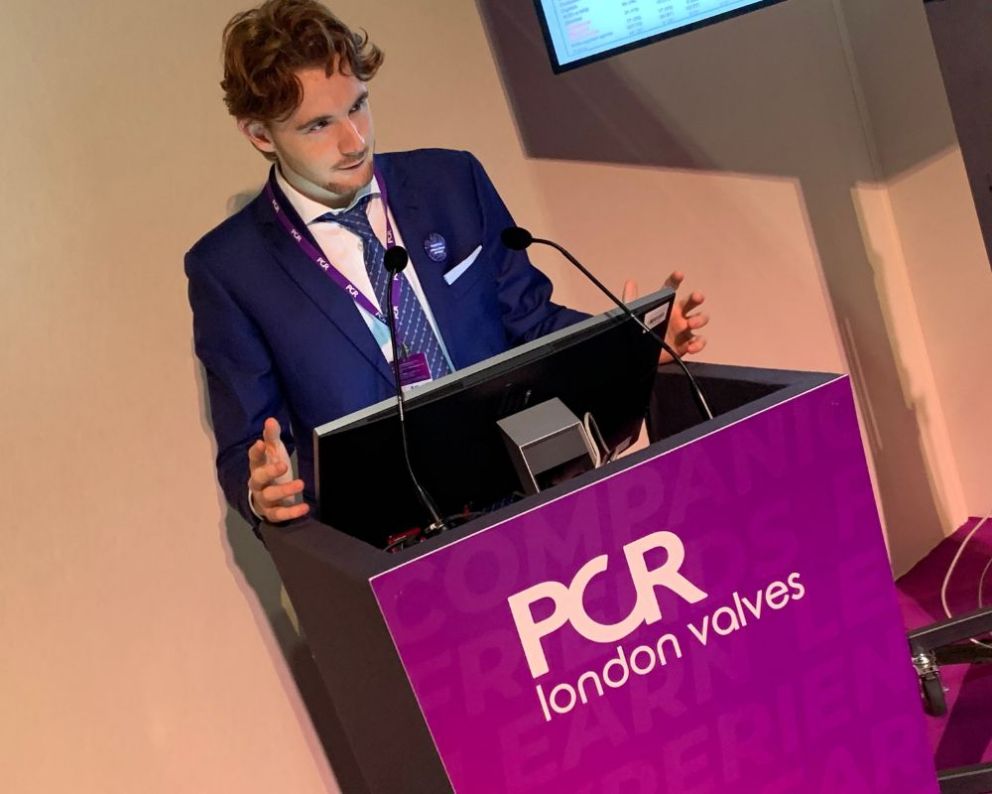 Edoardo Zancanaro, studente al 5° anno dell'International Medical Doctor Program UniSR, ha presentato un lavoro scientifico al Convegno PCR London Valves, svoltosi a Londra dal 17 al 19 novembre 2019.
Il Convegno, tra i più rinomati nel campo valvolare, è rivolto ad una platea internazionale composta principalmente da cardiochirurghi e cardiologi interventisti, la cui partecipazione è concessa solo dopo una rigida selezione degli studi scientifici sottoposti.
Il titolo del lavoro presentato da Edoardo è stato "The applicability of COAPT trial in the real world", condotto in collaborazione con il Dott. Nicola Buzzatti (alumnus UniSR e attualmente chirurgo presso il reparto di Cardiochirurgia), sotto la supervisione del Prof. Michele De Bonis, Direttore della Scuola di Specializzazione in Cardiochirurgia e Primario di Cardiochirurgia delle Terapie avanzate e di Ricerca presso l'IRCCS Ospedale San Raffaele.
Racconta Edoardo:
"Il COAPT (Cardiovascular Outcomes Assessment of the MitraClip Percutaneous Therapy) è una sperimentazione, condotta negli Stati Uniti, che indaga quali pazienti con insufficienza valvolare mitralica possono essere trattati con il dispositivo MitraClip. Il mio lavoro si è posto l'obiettivo di valutare quanto effettivamente il COAPT fosse applicabile nella nostra pratica quotidiana; dopo aver raccolto con i miei colleghi i dati sui nostri pazienti, abbiamo impostato uno studio statistico che ci ha portato ad avere dei risultati molto interessanti, che abbiamo poi presentato il giorno del Congresso. Si tratta di un argomento di estrema attualità, molto dibattuto dalla comunità scientifica, anche in vista della pubblicazione delle nuove linee guida sul trattamento della patologia mitralica".
Dopo un primo anno trascorso alla Riga Standins University di Riga (Lettonia), Edoardo è approdato in UniSR, dove è iscritto al quinto anno dell'International Medical Doctor Program e, sotto la guida del Prof. De Bonis, frequenta il reparto di cardiochirurgia.
Dichiara Edoardo:
"Aver partecipato a questo Congresso è stato per me fonte di grande soddisfazione, ma anche una grande responsabilità, perché ho dovuto dimostrare di aver meritato la fiducia che i miei colleghi e il Prof. De Bonis hanno riposto in me. Sono stato molto orgoglioso di aver avuto questa occasione, perché è la conferma che il duro lavoro porta a grandi soddisfazioni: nonostante la strada sia ancora lunga, partecipare a questo Congresso mi ha fatto sentire parte di una comunità scientifica. Ho intrapreso gli studi di Medicina con la chiara idea di diventare un cardiochirurgo, per questo ho deciso di iniziare lì il mio internato non appena ne ho avuto la possibilità. Ringrazio la mia Università e i miei Professori, specialmente il Prof. De Bonis, il Prof. Alfieri e il Prof. Castiglioni, che stimolano anche i più giovani a mettersi alla prova e a crescere, umanamente e professionalmente".
You might be interested in