Alberto Guarnaccia is the only Italian invited student at the EAACI Annual Congress
11 June 2019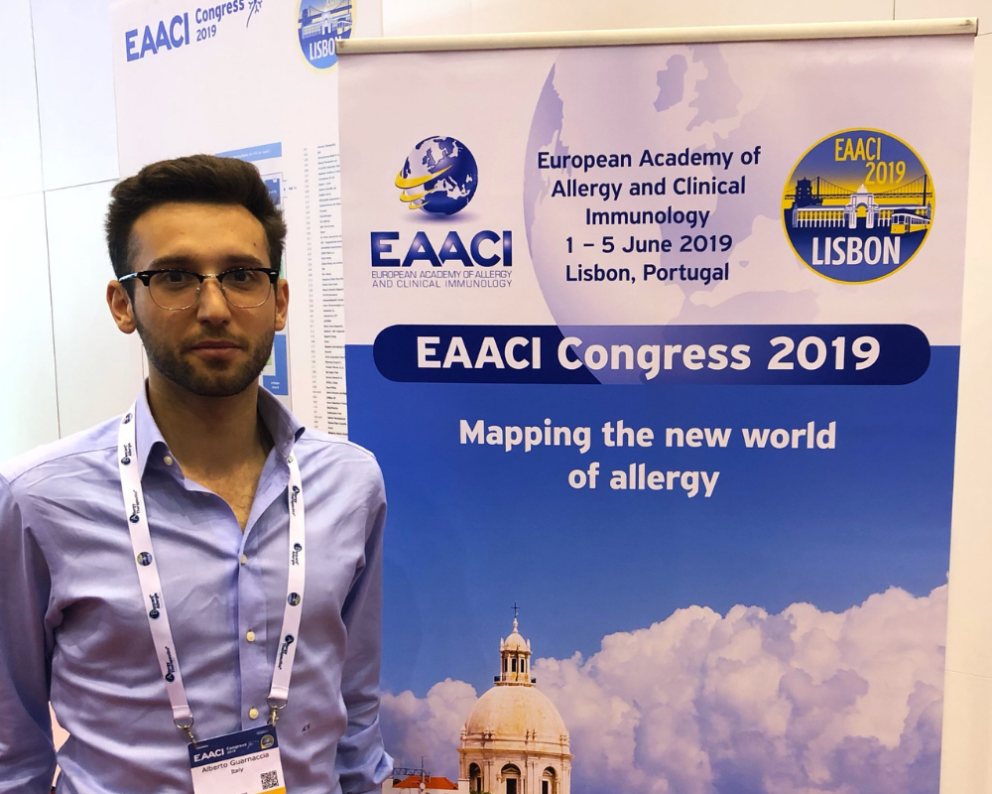 Alberto Guarnaccia, a fourth-year student of the UniSR MD Degree Course in Medicine and Surgery, has been the only Italian student invited to the Annual Congress of the European Society of Allergology and Clinical Immunology (EAACI-European Accademy of Allergy and Clinical Immunology) to participate in conference activities and present the project he began this journey with within the Society.
To participate, Alberto applied to the project "Allergy College", established by the EAACI itself, addressed to students of European medical faculties with the aim of involving them more in the activities reserved to allergology and clinical immunology. Accepted his candidacy (on the basis of his curriculum and motivation letter), Alberto and each of the other participants were assigned a Mentor (a member of the society to guide the student within the experience) with whom he then agreed the scientific topic on which to write an abstract. Finally, the most valid abstracts were selected, to be presented in a dedicated session during the Lisbon congress. The possibility of participating in the event was provided through scholarships made available by the company itself.
During the Congress, the students also followed specific sessions with the aim of deepening the allergological and immunological contents, with a view to a mini-training course. On this occasion, the selected European students presented their project; Alberto, the only Italian, presented a clinical case of FPIES (Food Protein-induced Enterocolitis Syndrome).
He states:
"This experience has represented for me an important formative moment in a very prestigious scientific context, with over 8000 participants from all over the world. This is the first real professional challenge I have faced: learning to participate (and hopefully contribute) to the scientific community is fundamental today. Vita-Salute San Raffaele University, through its natural vocation to be a protagonist in international scientific scenarios, has succeeded in transmitting the importance of pursuing increasingly ambitious goals through results of great value, researching them and presenting them on very high-level scientific occasions. I was very proud to represent my University, considering it an expression of an unrivalled educational idea on the national scene and extremely competitive from an international point of view".
You might be interested in