Events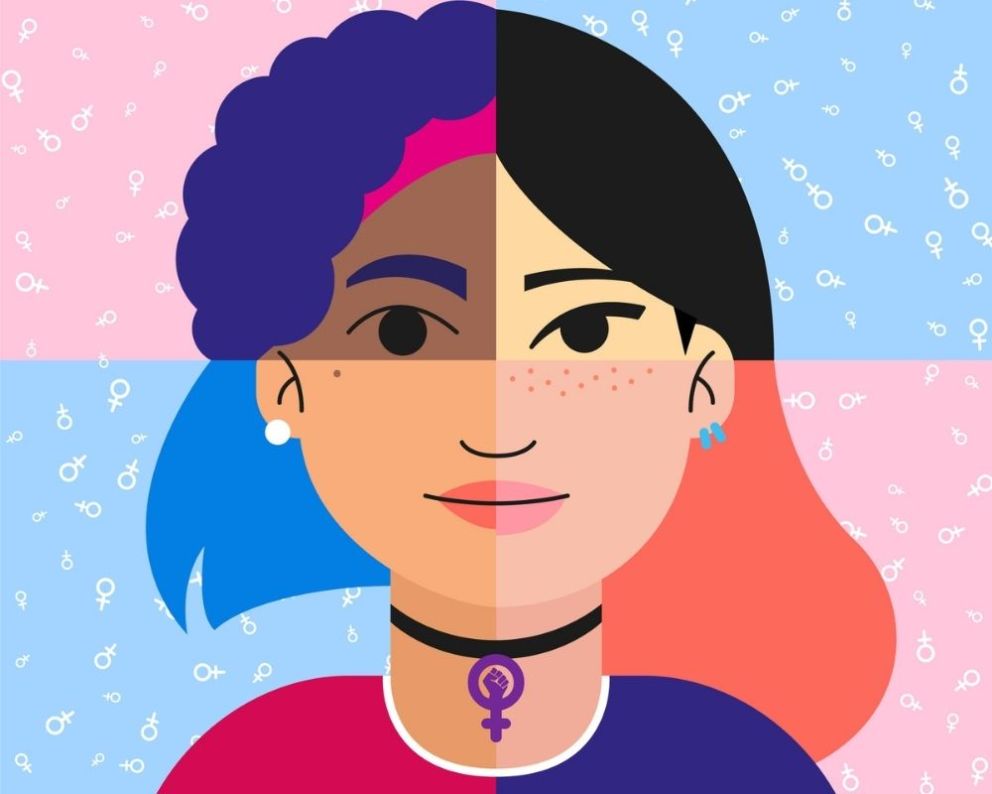 La Giornata internazionale per l'eliminazione della violenza contro le donne e le forme di patriarcato oggi
In vista della Giornata internazionale per l'eliminazione della violenza contro le donne (25 novembre), l'Interfaculty Centre for Gender Studies ha il piacere di annunciare il Workshop SWIP Italia "Forme del patriarcato oggi" che si terrà online martedì 24 novembre 2020.
La Giornata, istituita dall'ONU nel 1999, riconosce ufficialmente la violenza contro le donne come una violazione dei diritti umani, manifestazione dell'oppressione e della discriminazione di cui le donne sono ancora oggi vittima, seppur in forme e gradi diversi, in tutto il mondo.
"Forme del patriarcato oggi": Workshop SWIP Italia, 24 novembre 2020
Il Workshop, organizzato dalla Società Italiana per le Donne in Filosofia (SWIP Italia) e patrocinato dall'Interfaculty Centre for Gender Studies dell'Università Vita-Salute San Raffaele, si propone di indagare il persistere di strutture patriarcali e pratiche misogine nonché le condizioni per un loro superamento nella società europea occidentale.
Dov'è finita oggi la tradizionale struttura patriarcale della nostra società? Si è liquefatta, è stata sostituita da qualcos'altro?

Come associazione di donne filosofe, impegnata fra l'altro a contrastare le discriminazioni di genere in accademia, abbiamo scelto quest'anno di concentrare l'attenzione sulle forme attualmente assunte dal patriarcato, cercandovi chiavi di lettura per le fonti dei pregiudizi di genere e delle perduranti discriminazioni nei confronti delle donne, che sono il terreno su cui con ricorrente sistematicità può manifestarsi anche la violenza.

Marina Sbisà, Presidente SWIP Italia
Programma del workshop Forme del Patriarcato oggi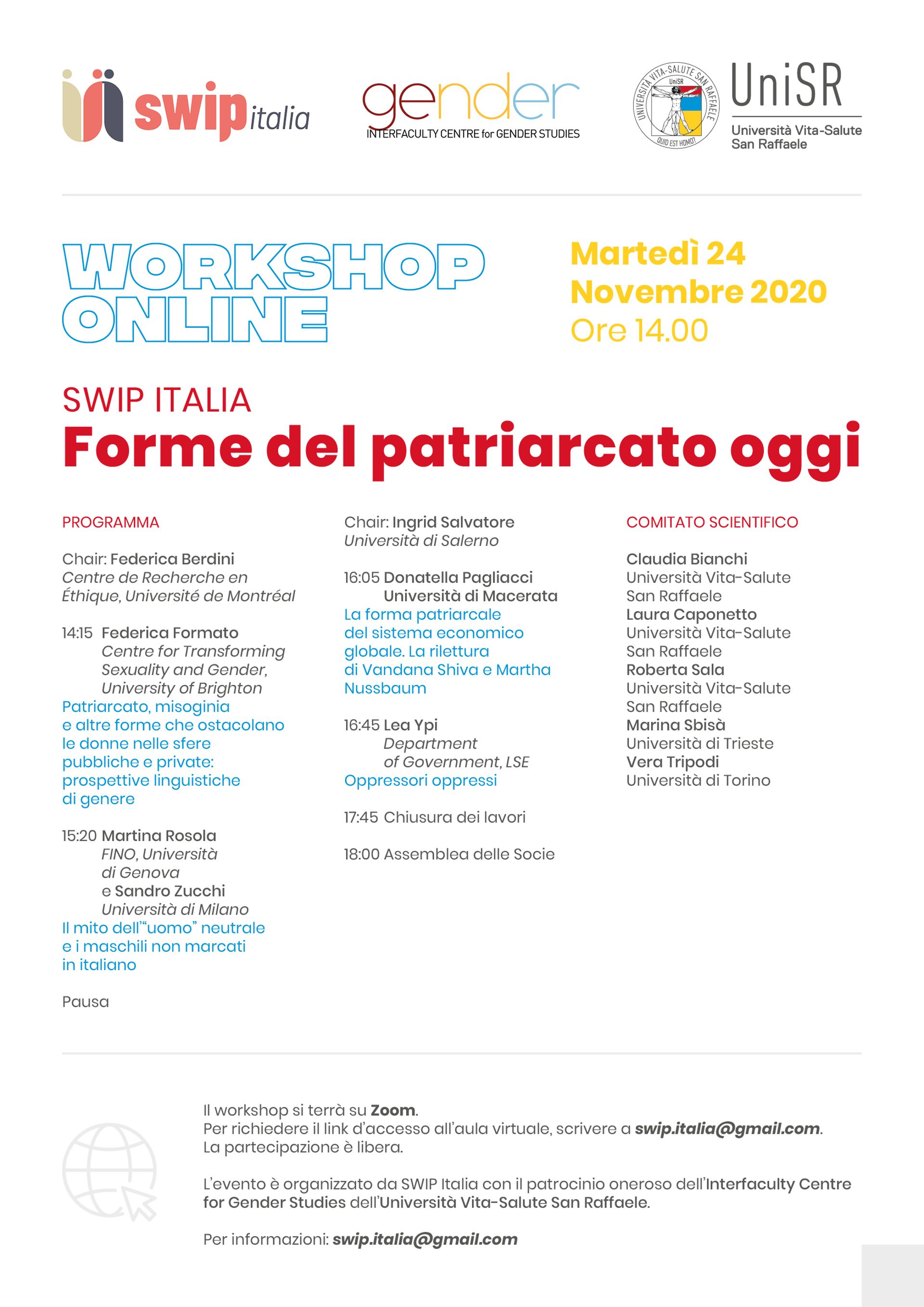 L'indagine delle forme assunte dal patriarcato oggi verrà condotta a partire da una duplice prospettiva, linguistica e politica, dalla quale prenderanno le mosse le due keynote lectures di Federica Formato, ricercatrice in Linguistica presso l'Università di Brighton e autrice di Gender, Discourse and Ideology in Italian (Palgrave Macmillan 2018), e Lea Ypi, professoressa di Filosofia e Teoria Politica presso la London School of Economics, da tempo impegnata nell'analisi del carattere strutturale dell'oppressione sociale.
Vi è un nesso tanto cruciale quanto tragico tra la violenza contro le donne, perpetrata dagli uomini nella sfera privata e intima delle relazioni interpersonali, e la disuguaglianza tra i generi nel godimento di fatto di diritti fondamentali. Questa disuguaglianza, pur con notevoli progressi, continua ad annidarsi nel senso comune e nelle pratiche sociali: si fonda infatti nella tendenza, ancora diffusa, a considerare le donne come persone meno autorevoli degli uomini in ciò che pensano e affermano, anche in forma di teorie – è il fenomeno dell'ingiustizia epistemica e discorsiva.

Francesca De Vecchi, Direttrice dell'Interfaculty Centre for Gender Studies
È per questo che l'Interfaculty Centre for Gender Studies - continua la Professoressa Francesca De Vecchi - ha promosso il Workshop SWIP Italia "Forme del patriarcato oggi" che – non è un caso – ha luogo proprio alla vigilia della Giornata mondiale contro la violenza sulle donne. Se, nel corso della storia umana, i filosofi sono stati spesso complici della teorizzazione dell'inferiorità delle donne, le filosofe – e noi con loro – non possono che cercare, continuamente, di disinnescare questa complicità, mostrando in primo luogo la falsità di tale teorizzazione; ben consapevoli che in gioco non vi sono soltanto teorie filosofiche ma esistenze di donne, filosofe e non, le quali non devono più essere oggetto di violenza da parte degli uomini.
Come partecipare al workshop?
Il programma completo del Workshop, unito al book of abstracts, è reperibile qui.
La partecipazione è libera, ma occorre registrarsi scrivendo una e-mail a swip.italia@gmail.com.
You might be interested in