Tutte le news
Alessandro Migliara, UniSR PhD student, selected for the prestigious "Roche Continents" in Salzburg
10 gennaio 2018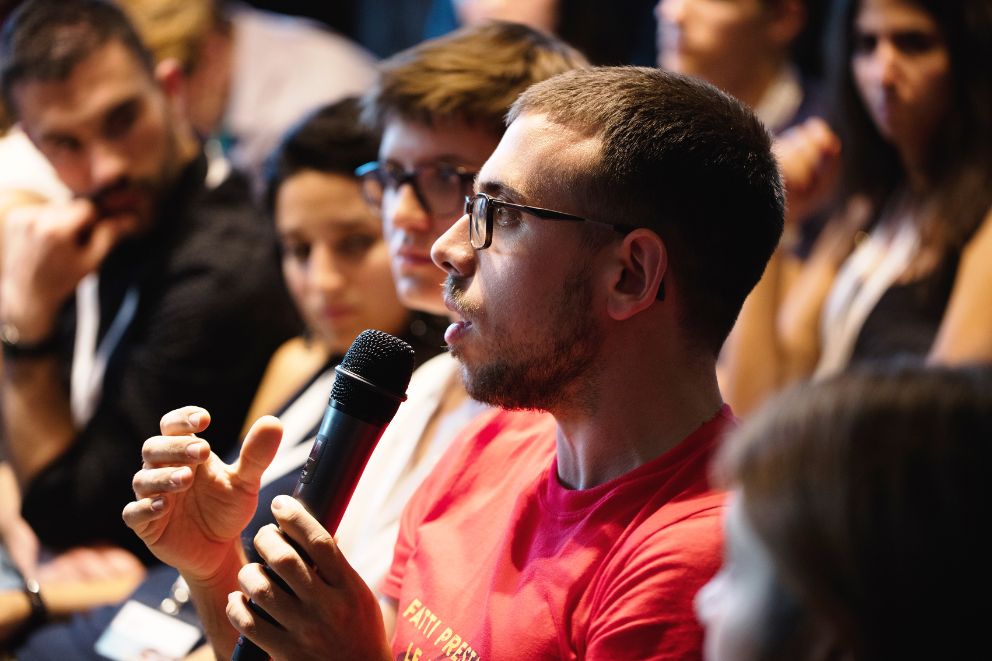 A week in Salzburg. Alessandro Migliara was selected as one of the top 100 students among the best European Universities to represent the Vita-Salute San Raffaele University in the valuable Roche Continents international opportunity. Alessandro holds a San Raffaele Master degree in Medical Biotechnology and is a graduate student of our International PhD Course in Molecular Medicine working within the San Raffaele Telethon Institute for Gene Therapy (SR-TIGET).
Created in 2007 by the renowned pharmaceutical company Hoffmann – La Roche, the Roche Continents project allows 100 young students (70 of scientific disciplines and 30 of the artistic field) to discuss transversal topics such as science, art and society, with the common denominator of creativity, inserted in the frame of the Salzburg Festival. "Every year, Roche asks the best European Universities to nominate their best student, who meets certain requirements – such as being between 20-29 years old and being particularly deserving", recount Dr. Anna Mondino (Head of the "Lymphocyte Activation" Unit at San Raffaele Hospital) and Daniela Talarico (researcher at the Division of Genetics and Cellular Biology at the San Raffaele Hospital, as well as a member of the Board Committee of our Board Committee of our PhD Course). "We knew Alessandro was the ideal candidate for such an event. Not only he is a brilliant student and a great scientist and has recently first-authored a paper published in Cell in the field of epigenetic editing, but also has a very creative mind and attitude towards life. We suggested his name, and consulted with several Coordinators of the Doctoral Course, to finally have his candidacy unanimously approved".
The sole application was not sufficient to grant participation to the project: the nominated students were in fact subjected to a careful selection based on the motivation to participate and on the quality and originality of a project at the interface between art and science, which had to be presented by each candidate. This year's theme was "Spectrum of power". Alessandro outlined a proposal, which he wishes not to disclose at this time, as it might be worth a patent!
This is how Alessandro comments: "I am very happy that my Professors and the scientific committee of Roche Continents choose me. I was really proud to have the chance to represent the San Raffaele University and Italy in the Roche event. I have to thank also Prof. Angelo Lombardo (in whose lab I'm working), who gave me the opportunity to work in his laboratory of Epigenetic regulation and targeted genome editing, and to mature as a human being and a competitive professional, and the whole SR-TIGET, headed by Prof. Luigi Naldini. During the week I spent in Salzburg, students took part in a variety of practical workshops (from brainstorming about social issues to percussion lessons!) and witnessed the testimonies of internationally renowned scientists and artists. We experienced that to make innovation we must be willing to take risks, even if original ideas might not immediately meet the public opinion approval. We were told that our driving force should be enthusiasm, persistence, collaboration and creativity. In our research activity – I personally deal with epigenetic engineering for therapeutic purposes and the characterization of molecular mechanisms underlying epigenetics – creativity is critical to design innovative strategies to approach a clinical problem, and also during project development to overcome hurdles  or negative results, and imagine the best solutions to get back on track and reach the final goal. From a human point of view, at Roche Continents I got to know colleagues from all over the world, with whom I share a strong enthusiasm for research, be it scientific or artistic; and to establish beautiful friendships. Roche Continents has been a unique experience that I am sure I will always remember with gratitude".
More information about the Roche Continents projects are available here: https://roche-continents.com/home.html
Ti potrebbero anche interessare